Hello guys, I'm Asal with another interesting article about winter fun in Tehran. If you have a question about people in Tehran who live in a bustling, traffic and pollutions what they do in winter.
The Tochal entertainment complex is located in the north of Tehran with having different facilities like Ski lift, Sledge, Bungee jumping, Tochal roof, Ski resort and Tele cabin which can make a wonderful day for you.
What can we do in Tochal?
How tall is the Tochal Mountain?
Is there anything to take us to the ski resort?
Is there any place to stay I Tochal?
Tochal is 3,962 meters that transferring to Tochal is really simple so that you can go there by bus/your own car or taxi.
As I myself personally crazy about mountains and high places first because clean and fresh air, second fantastic view of city, I can say I always go there two or three times a month. Last week I went there with my sister and her friend to be away from the bustle of capital that took us two hours with watching and drinking a cup of hot coffee that caused to write this for you.
I you want to spend a day in Tochal you can start with a mountaineering to station7 (ski resort) or if you do not like to walk after 10 to 15 minutes you reach the bus station to take you near the ski lift/Tele cabin. I have to say Tochal Tele cabin with a length of 7,500 meters is one of the longest Tele in the world.
If you do not want to go up you can stay in Tochal roof and sit in a bench or a coffee to watch the city and I suggest you do that at night with having a cup of tea/coffee to enjoy. There is another way you can ride ski lift to statin2 and eat a Shole Ash (a delicious soup).
Well the best suggestion is wake up early and go for hiking and ride a Tele cabin to station7 to reach the ski resort if you love the winter and snow, and also do not worry about ski equipment or not knowing it, in this place you can rent everything you need and there are some teachers.
There is a hotel to stay at night if you want to experience a different night in your life with a view of Tehran. For people who do not like ski can go and ride a Snowmobile in a winding path to experience real adrenaline among the snow. In Tochal there is a sled that made by a German company with a length of 1,420 meters.
I hope you enjoy this text and if you had a question please do not hesitate to ask me, I will be really happy if I can help. (Don't forget you need a Visa to enter Iran.)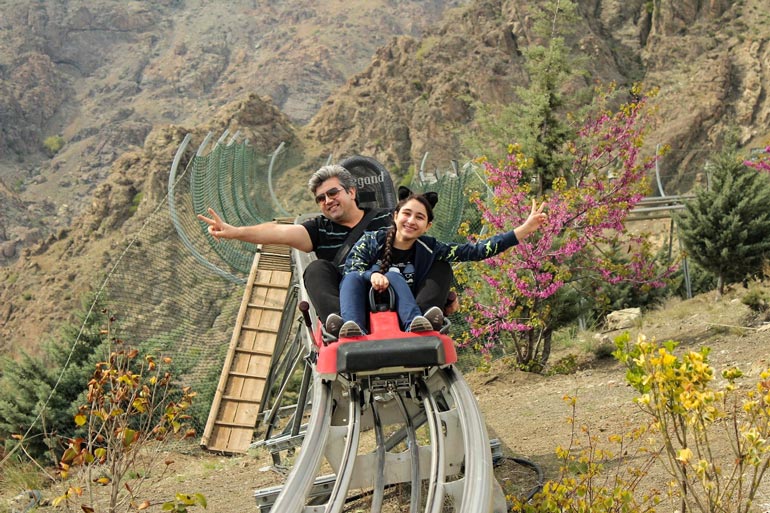 Contact us
Land lines: 021-44 255 399 / 021-44 255 409 / 021-44 253 708
Phone number: 0938 930 9861
Email: visit2iran.jsi@gmail.com
Instagram: @visit2iran.jsi
By: Asal Rezvani (JSI2435)
Hello guys, I'm Asal from Jaziresafar travel agency with another questions about currency of Iran that I want to answer them.
How much is U$D1 in Iran?
Why is Iranian Rial so cheap?
Taman or Rial is used in Iran?
What can we do with $100 in Iranian Toman?
As you know the currency of Iran is Rial, which is not used due to its low value that people of Iran use Toman instead of Rial which is abbreviated as IRR.
In fact, Rial is a Spanish and Portuguese word that means Empire which was promoted in 1176 AD.
Common Iranian banknotes are 5,000 / 10,000 / 20,000 / 50,000 / 100,000 Rials and Iranian check banknotes are 500,000 and 1,000,000 Rials.
There are also some coins that are gradually being used so if I want to say the Iranian Rial based on the Dollar, today each US Dollar is equals to 400,000 rials or 40,000 Tomans. If you walk in the street or restaurant do not be surprised because using Toman is easier than Rial so that 1 Toman is 10 Rial.
The most important reason for the devaluation of money is inflation, which decreases the value of money over time.
Basically, Iran's currency has a low monetary value due to inflation and economic sanctions by some governments.
I should say, today 28 Jan 2023, $100 is almost 40,000,000 Rial (4,000,000Toman).
If I want to talk about travelling to Iran I would say with certainty that travelling to Iran is an exciting trip at a very low cost. As my last passenger told me "I still cannot believe that Iran have a lot of fantastic places to visit like Isfahan, Shiraz, etc. With low cost to travel" and also he mentioned that in the future he will visit Iran again. Philip was an Italian whom I am really happy to have met him.
As I said travelling to Iran is one of the cheapest travel you could have, for example the daily cost, including lunch, dinner, and coffee can be calculated as a minimum of $25.
By Mr.Ashayeri (JSI2407)
The tomb of Khajovi Kermani is located in the north of Shiraz, at the foot of Sabavi Mountain and at the beginning of the Shiraz-Isfahan road, in Tang Allah Akbar. His grave overlooks the Quran gate. The water of Ruknabad spring also passes by Khajo's tomb. This tomb was built in 1315 with the funds of Fars Culture Department. The tomb of Khajovi Kermani was registered as number 916 in the list of historical monuments.